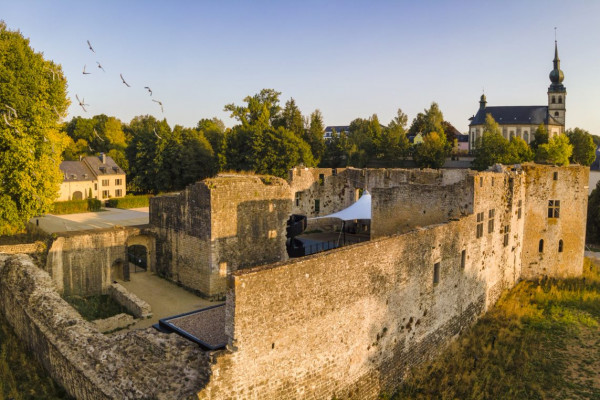 The Koerich Gréiweschlass (Count's Castle) is considered the gateway to the Valley of the Seven Castles. The castle ruins form a remarkable unity along with one of the most beautiful religious buildings in Luxembourg, the baroque church (1748) and the old houses of Koerich. Your tour guide will take you on a journey through time.
Duration: 60 or 90 minutes (according to the customer's request)
Number of participants: min. 1 - max. 10 (due to COVID-19)
Price: 70,00€ for 60 minutes or 85,00€ for 90,00 minutes (groupe price: 1-10 persons)
Informations
Requirements
Please adapt clothing to weather conditions and bring your ticket.
Requirements
This point of interest is accessible for everyone. (ex: wheelchair users, rollator users and families with prams) The interior of the castle can be reached at ground level, only the donjon is accessible on foot via a spiral staircase.
Included in the offer
Guided tour of 60 or 90 minutes. According to the customer's requests.
Public transport
Closest bus stop: "Weidewee" in Koerich (walking distance ~ 2 min.)
Parking
There are several parking facilities on site, for example at the nearby town hall
Location
---
Tickets
- The moated castle has a unique, privileged location
- The cultural and architectural history tour, always creates new and interesting perspectives on the castle
- This point of interest is accessible for everyone
- The castle ruins are protected as a national monument
Price
70.00€
Duration
60, 90 minute(s)
Number of participants
min. 1 - max. 10 persons (due to COVID-19)
Languages offered
German, English, French, Luxembourgish