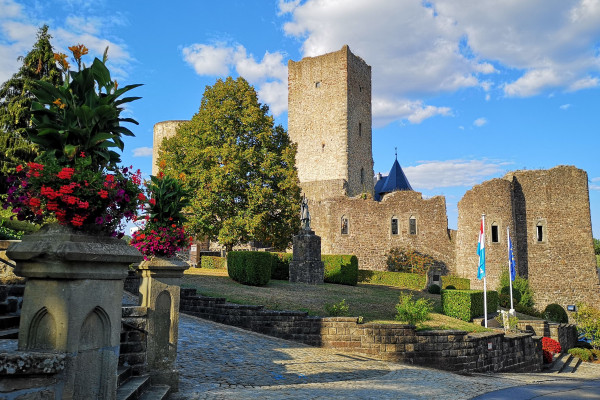 The walls of this castle have a lot to show and tell. Together, we will discover the didactic route around the castle, the crypt and the herbgarden. At the end of the tour, you will be rewarded with a majestic view of Useldange from a height of 28 meters.
The people of Useldange love their fortress. Why is that? The setting is impressive and is right in the middle of the village: the mighty ruins of the fortress with its two towers, connected by a contemporary steel bridge. Your tour guide will show you the keep, the mystical crypt and the medieval vegetable garden. The educational cultural trail in and around the castle is designed especially for visually impaired people and was created under the auspices of UNESCO. 
Duration: 90 min.
Meeting place:
TouristInfo Wëlle Westen
1, am Millenhaff
L-8706 Useldange 
~
Informations
Requirements
Sturdy shoes desired, there are lots of stairs to climb. Please dress accordingly to weather and bring your ticket.
Other information
The guide's contact details will be sent to you once the guided tour has been confirmed.
Included in the offer
Guided tour of 90 minutes 
Public transport
Closest bus stop "Bei der Buerg" (walking distance ~ 2 min.)
Parking
There are several parking facilities on site
Location
---
Tickets
- The site is not suitable for prams and wheelchairs
- A majestic view of Useldange from a height of 28m
- The educational, cultural trail in and around the castle was created under the auspices of UNESCO
Price
105.00€
Number of participants
1 - 15 people
Languages offered
German, English, French, Luxembourgish