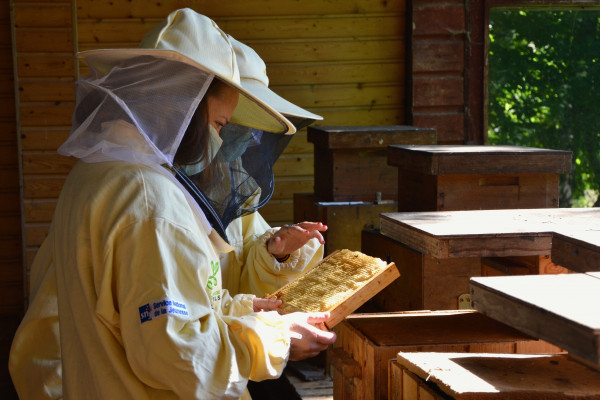 The journey begins when Georges Krack picks you up with his comfortable minibus. He'll take you to meet some local food producers, and you'll get an insight into the origin of local products. You'll spend lunchtime in an authentic restaurant where traditional specialities are served.
At least two visits to local food producers will be done. Which producers make up the tour will depend on opening hours and will be individually chosen for each booking.

Before you head back home, Georges will take you to one of the region's many cultural must-see places. He'll give you some recommendations and will adapt the tour to your individual wishes. Guttland is famous for its many castles and fortresses, so you can, for example, opt to visit Useldange Castle or one of the castles in the "Valley of the Seven Castles". Or you can head to Rindschleiden, the smallest village in the country before Georges drops you off again back at the meeting point.
Duration: Day trip (about 10 hours)
Meeting point: Needs to be set individually and in advance with Georges Krack
Contact person: Georges Krack
Tel.: +352 661 728 109
Mail:
Site web: www.explore.lu
Informations
Requirements
Please bring your booking confirmation with you.
Requirements
This offer is fully accessible for nearly everyone and can accommodate 2 wheelchairs on request.
Location information
You can choose a meeting point where Georges Krack will pick you up and drop you off.
The meeting point will be set in advance with Georges.
Other information
- Please bring your booking confirmation with you.
- The meeting point will be set in advance with Georges.
- Pets, smoking and eating on the bus are not allowed.
Included in the offer
- Guide/driver (incl. lunch for the guide)
- Minibus and fuel
- Tour of at least 2 local food producers (individual choice of destinations depends on opening hours)
- Stop-offs at great photo locations
Not included in the offer
- Price: Visits to local producers (EUR 5–15 per person, depending on the producer)
- Lunch at a local restaurant

The following optional add-on can be booked:
- Dinner at a local restaurant (you will have to pay for the guide's dinner as well)
Anything not included in the main offer will need to be paid on the spot.
Location
---
Tickets
Direct contact with the person behind the offer, Georges Krack, and the local food producers
Enjoy local products
An authentic tour that is fun for everyone
It's an exclusive day trip for your small group. You set the pace.
You don't have to worry about a single thing — Georges Krack is your personal driver and guide.
Price
600.00€
Duration
10 hour(s)
Number of participants
A group can consist of at least 1 and at most 8 people.
Languages offered
German, English, French, Luxembourgish